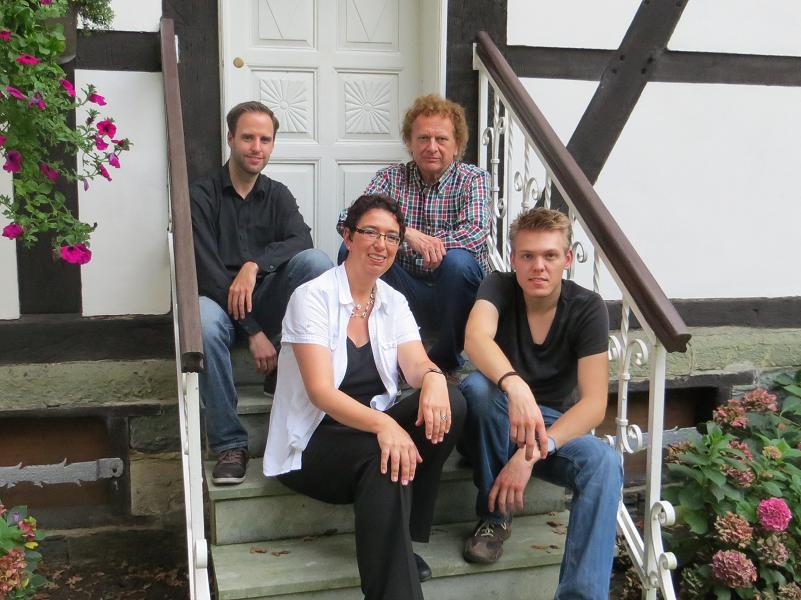 September 2014 - New Line-up
After Peter's departure we're happy to welcome our latest band member Stefan Schwarz, who adds guitar and vocals to our music and has already given a fantastic debut at our concert at Welver.
May 2014 - Album launch "Rise Again"
After almost one year of hard work we can now finally present our 3rd studio album. "Rise Again" holds many of the songs from our current set in a new and fresh look. The official launch takes place on May 31 on the Quinkenhof near Lennestadt (details to be found in our diary). We hope to see many friends there.

At the same time we're very sad to announce that the album launch will be Peter's last official concert with Zinnober. We respect his reasons for leaving the band and wish him all the best for his future. A new guitarist who will step in for Peter has been found though already, so Zinnober will definitely go on!

It's also very sad that we will have to miss out on Walburga for another uncertain amount of time due to illness. we really hope though that she will be with us again at some point in the future and wish her all the best.
July 2013 - New studio recordings
After a 5 year break it's time for a new album. We're currently busy recording our 3rd CD in the studio. Unfortunately we've received some bad news in the process. Walburga has fallen seriously ill and it will probably take many months for her to recover. We're all keeping our fingers crossed for her for a full and speedy recovery and hope to have her back again with us soon.
September 2012
It's now been 25 years since Zinnober was founded in Soest. Time to celebrate with fans and friends on September 15th at the Musikschule in Soest!
October 2011 - Zinnober welcomes new band member Matthias Dicke
We're very happy to announce that multi-instrumentalist Matthias has decided to join us with his fiddle. Coming across him by pure chance at a gig in spring we're looking forward to our first official gig as a five-piece on December 17th in Werl (see diary).
June 2010 - International Album with a song by Zinnober now available The long wait is finally over - the album "Goin Home International Vol 10" by Quickstar Productions is now available. The CD features tracks by musicians from around the globe along with our song "Nuar a chi thu caileag bhoidheach" from our first album. All tracks are also available for download from all leading online music shops.
New CD now available
Our new album "Setting Sail" is in our hands and ready to order!

New CD in sight
We're currently in the studio working on our new CD which will probably available in spring 2009. As before the tracklist will have traditional as well as contemporary songs both in English and Scottish-Gaelic. For the first time a male voice will be heard on lead vocals - thanks to Peter!

Zinnober with new line-up
After guitarist Thomas Schmidt left us unexpectantly, we have now finally found a new band member. Peter Mussler, who originally had only planned to help us out for the concert in Finnentrop-Heggen, has now decided to join us for good with his guitar and voice. We are very happy to welcome him to the band!

Zinnober on Scottish Radio again
During a spontaneous visit to Campeltown, Kintyre, Alexandra paid a visit to Argyll FM - the radio station which has been supporting Zinnober for a while by regularly playing our songs.
Alexandra gave a live interview for the English Iain Henderson show. She also recorded an interview in Gaelic.
During her visit Alexandra was informed that Zinnober music is also played on Oban FM, Nevis FM and BBC Highlands from time to time.

CD available in Edinburgh and in the shop of the Gaelic College Sabhal Mòr Ostaig

Our CD "An Rathad Ard - The High Road" is now available in Scotland.
"CODA-Music" in Edinburgh - a record shop specialised in Folk Music - agreed to include our CD in their range. The shop of the Gaelic College Sabhal Mòr Ostaig (Isle of Skye) also agreed to include our first recording in their range. Let's hope that from now on our music will be played on many Scottish stereo systems.

Zinnober on Gaelic radio!
On January, 2nd 2005 our new CD "An Rathad Ard - The High Road" was first presented in the Gaelic programme of Argyll FM (local Scottish radio station). Since then our Gaelic songs have been part of each show!!